Mi-fugue, Mi-raisin
36/38, rue Delambre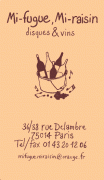 Serge Ganem and Pierre Martin have had the novel idea of fusing a cave specialising in natural wine with a classical music shop specialising in baroque.
But don't be put off if either one of these isn't to your taste. It seems to work well in either capacity.
A serious wine shop with a very broad cellar, not just a gimmick.
Natural wine map Closest Métro : Edgar Quintet
Mi-fugue, Mi-raisin
36/38, rue Delambre
Paris, 75014
+33 1 43 20 12 06